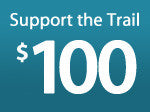 You can make traveling the Great Allegheny Passage a world-class experience! 
 Your gift might help keep bridge decking in top condition, or prevent washouts along steep hillsides.  Your generosity might help orient first-time riders to the joy of the trail, or update our official trail and town maps.  Your donation might show former railroad towns just the right bike-friendly ways to cater to cyclists, or update wayfinding signage, so you can get right where you need to go on your next visit.

Thanks for considering a contribution.  Gifts are tax-deductible, and are easy to make right here.
---
More from this collection